It's
Denise
here today, to share my "Take Flight" Canvas with you.
These pictures were taken on my 01st Birthday and I can imagine that I was innocent, happy and carefree and so excited about this first Birthday!
Since the theme for January is Things with Wings, I wanted to incorporate this into my design, as well as my journalling. I searched the internet for a verse and really loved this one that I found.
This is what the canvas is about and is also on the back of the canvas.
My brother was here over Christmas and he had just turned 40. We had quite a philosophical conversation, where he asked me and my sister, what we were going to do with the next 40 years of our lives. It certainly made me think. I thought about how quickly these past 40 years or so have gone and how quickly the next 40 are likely to go and I don't want to miss a day of it...I want to make the most of everyday and find my wings. I want to fulfill my dreams and also do things that I never thought I could do!
I am sure that on my first Birthday that I had similar thoughts...about being a fairy princess and having wings to take me to faraway lands and places! ;-) So this is the philosophy behind my canvas!
I used the beautiful digital coasters from
by Digital Paper
and really felt I could not cover them up and so kept them quite open, as my background papers.
I added texture with gesso and stencilling, along with some corrugated board. I then added some water colouring and inking.
I used some really neat, artificial flowers and leaves that I had bought at our local Chinese market and they really do give fabulous dimension and depth. The chippie frames that I used are Dusty Attic.
I used a butterfly punch for the butterflies and these added to my theme.
Here is the link to those beautiful coasters.
https://www.etsy.com/…/old-coaster-1-4-x-4-inch-set-of-4-ca…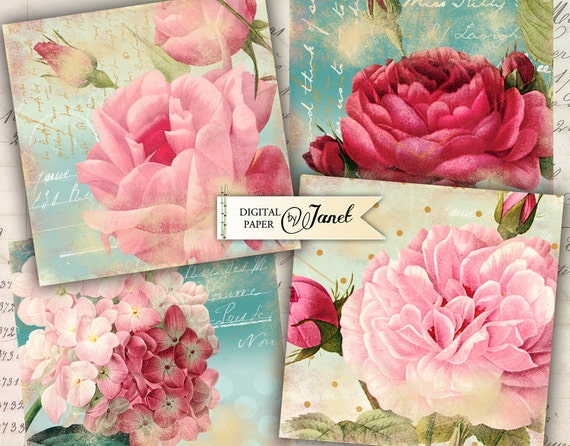 Well, we would love for you to play along and share your take on Things with Wings. There are some gorgeous prizes up for grabs.
1st Prize:
3 products of by digital PAPER chosen by the winner






Random Prize:
Set of TandiArt prints and cards



Sponsors:
This online shop was set up by amazing graphic designer - Janet who works on graphics many hours daily, so that customers can always be pleased when buying her digital papers. For many years Janet has been collecting old postcards, photos, illustrations and she uses them to make her beautiful digital papers. She also like to draw. Many of her illustrations Janet drew herself.
Etsy Store:
https://www.etsy.com/shop/bydigitalpaper
Facebook:
https://www.facebook.com/bydigitalpaper
Twitter:
http://twitter.com/madebyjanet
Mixed media art, home decoration and workshops with a little bit of magic:) This dreamy art work is created with heart and soul by Sylwia Gryczuk.

Please note that if the winner(s) of this challenge are international they will be responsible for shipping costs. Make sure you follow our CHALLENGE RULES.

Thank you and we hope to see your beautiful creations!

We appreciate each and every challenge entry and share the designs that catch our eye on our facebook pageand Pinterest Boards. Look for your work there!